About Mary Cost
As a poet and artist, I have spent most of my adult life in the verbal and visual arts. During the 1980's, while living in Manhattan and pursuing a career in advertising and publishing, I worked in stained glass, creating abstract door and window panels of my own design.
On retiring from publishing, I devoted several years to poetry, was named Poet Laureate of Bucks County, Pennsylvania (1990) and earned a Master of Fine Arts (MFA) from Vermont College (1991). My poetry collection, "Goldfinch and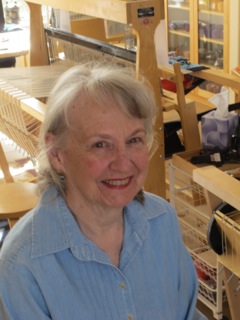 Memory", was published by Steamboat Press, Brooklyn, Maine, in 2005.
In the mid-nineties, I moved to Santa Fe, New Mexico. Looking for a new creative challenge, I enrolled in classes in tapestry weaving and wool dying. I was quickly captivated by the slow, meditative process of working weft through warp, row upon row, by the friendly feel of wool in the hand (compared to, say, glass) and the seemingly endless variations of color and shade the weaver can achieve in the dye pot and on the loom. I have never looked back.