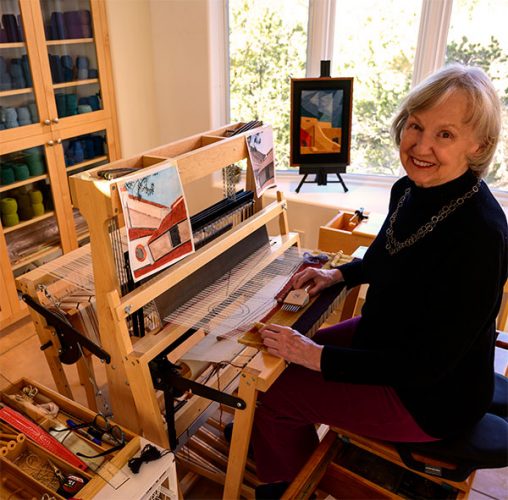 As a poet and artist, I have spent most of my adult life in the verbal and visual arts. During the 1980's, while living in Manhattan and pursuing a career in advertising and publishing, I worked in stained glass, creating abstract door and window panels of my own design.
On retiring from publishing, I devoted several years to poetry, was named Poet Laureate of Bucks County, Pennsylvania (1990) and earned a Master of Fine Arts (MFA) from Vermont College (1991). My poetry collection, "Goldfinch and Memory", was published by Steamboat Press, Brooklyn, Maine, in 2005.
In the mid-nineties, I moved to Santa Fe, New Mexico. Looking for a new creative challenge, I enrolled in classes in tapestry weaving and wool dying. I was quickly captivated by the slow, meditative process of working weft through warp, row upon row, by the friendly feel of wool in the hand (compared to, say, glass) and the seemingly endless variations of color and shade the weaver can achieve in the dye pot and on the loom. I have never looked back.
ARTIST STATEMENT
I love strong contrasts… light and dark… bright and dull… angles against curves… serenity amongst turbulence…
I am captivated by color… the subtler, the more unexpected, the better. There is no such thing as a bad color… every hue, every tint and shade has its possibilities.
My inspiration comes primarily from art… the extraordinary sense of speed and energy the Italian Futurists captured in their paintings… the feeling of mystery, even danger, in de Chirico's surreal cityscapes… the German Expressionists' outrageous use of color…
Fiber is my medium, inherited from generations of knitting, sewing, embroidering, rug-making, and, yes, weaving women…
The challenge – to create these legacies anew within the grid of warp and weft, using wools, silks, cottons and the colors brewed in my dye pots.
Memberships
American Tapestry Alliance
High Desert Tapestry Alliance
Las Aranas Spinners and Weavers Guild
Las Tejedoras Fiber Arts Guild